7 Nights Aqua Mekong Cruise
on Aqua Mekong
Joining us for the full 7-night Mekong Expedition Cruise allows us to share with you all the mysteries and wonders we have discovered between the Mekong and Tonle Sap River and among the diverse cultures thriving in our midst. Passengers who travel with us from Phnom Penh (PHN) to Ho Chi Minh (SGN) experience a more fascinating time on the Cambodia stretch of the Mekong and along the Tonle Sap River. We highly recommend this ultimate journey where you can enjoy the best of both worlds.
You will have plenty of opportunities to explore, from daily biking options (10 - 15km), kayaking, to relaxing excursions on shaded tuk-tuk. Venture by private skiffs to the untrammeled reaches of pristine Tonle Sap River, and travel by rickshaw with our chef to Vietnam's vibrant wet markets. Listen to folk songs as honored guests in pitched roof Vietnamese homes and cycle alongside this country's iconic rice paddies. In the silversmith village of Koh Chen, we watch artisans producing the magnificent silverware favored by Khmer royalty. Admire Khmer artisans dyeing and weaving kroma. Explore the otherwise inaccessible locations on our custom designed, ergonomic and private speedboats, each sitting up to 10 guests.. Back on board, watch the Mekong's enduring charms unfold from the daybed alongside your five-star suite's wall of windows or on your private deck.
Adventure and Active
All Inclusive
Family Vacations
LGBT Travel
Luxury
Romance and Honeymoons

Aqua Expeditions caters to modern-day adventurers seeking active exploration in destinations best discovered by cruising. Highly experiential in nature, every Aqua Expeditions journey encompasses tailored activities with expert-guided small-group excursions, exceptional service with a 1:1 crew-to-guest ratio, a focus on sustainability and conservation, contemporary ship design as well as a world-class cuisine experience created by renowned chefs.
Aqua Expeditions began with the launch
...
7N Aqua Mekong Cruise PNH to HCM. First Deck Suite
7N Aqua Mekong Cruise PNH to HCM. First Deck Suite
7N Aqua Mekong Cruise PNH to HCM. First Deck Suite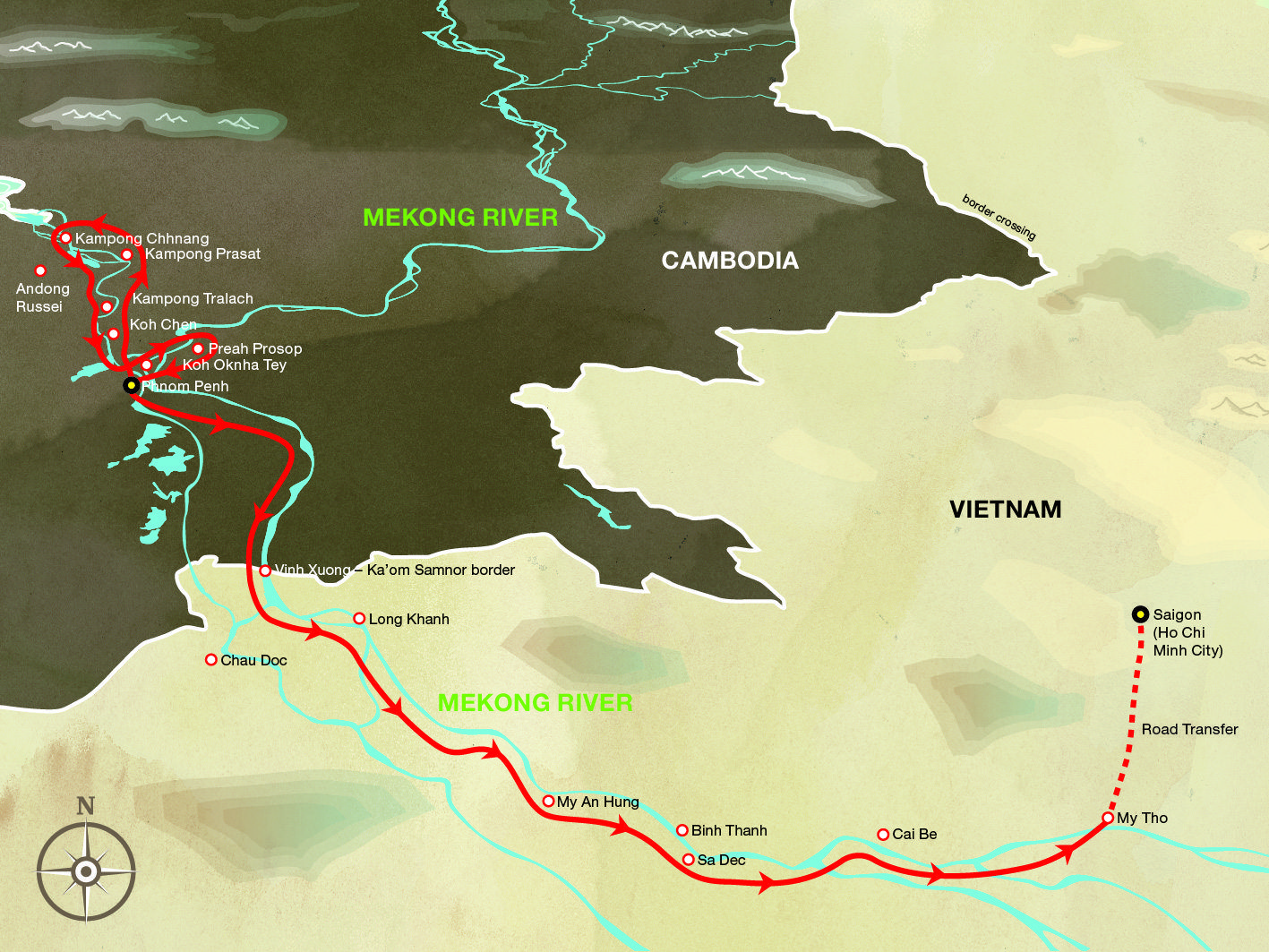 Day
Destination
1
Phnom Penh (PHN)
2
Koh Chen and Kampong Prasat
3
Kampong Chhnang and Kampong Tralach
4
Koh Oknha Tey and Preah Prosop
5
Phnom Penh (PHN)
6
Border Crossing, Chau Doc and My An Hung
7
Binh Thanh and Cai Be
8
Ho Chi Minh City